SAVE 10% ON DAILY CRUISES
Use code: CAMBO10 on cambocruise.com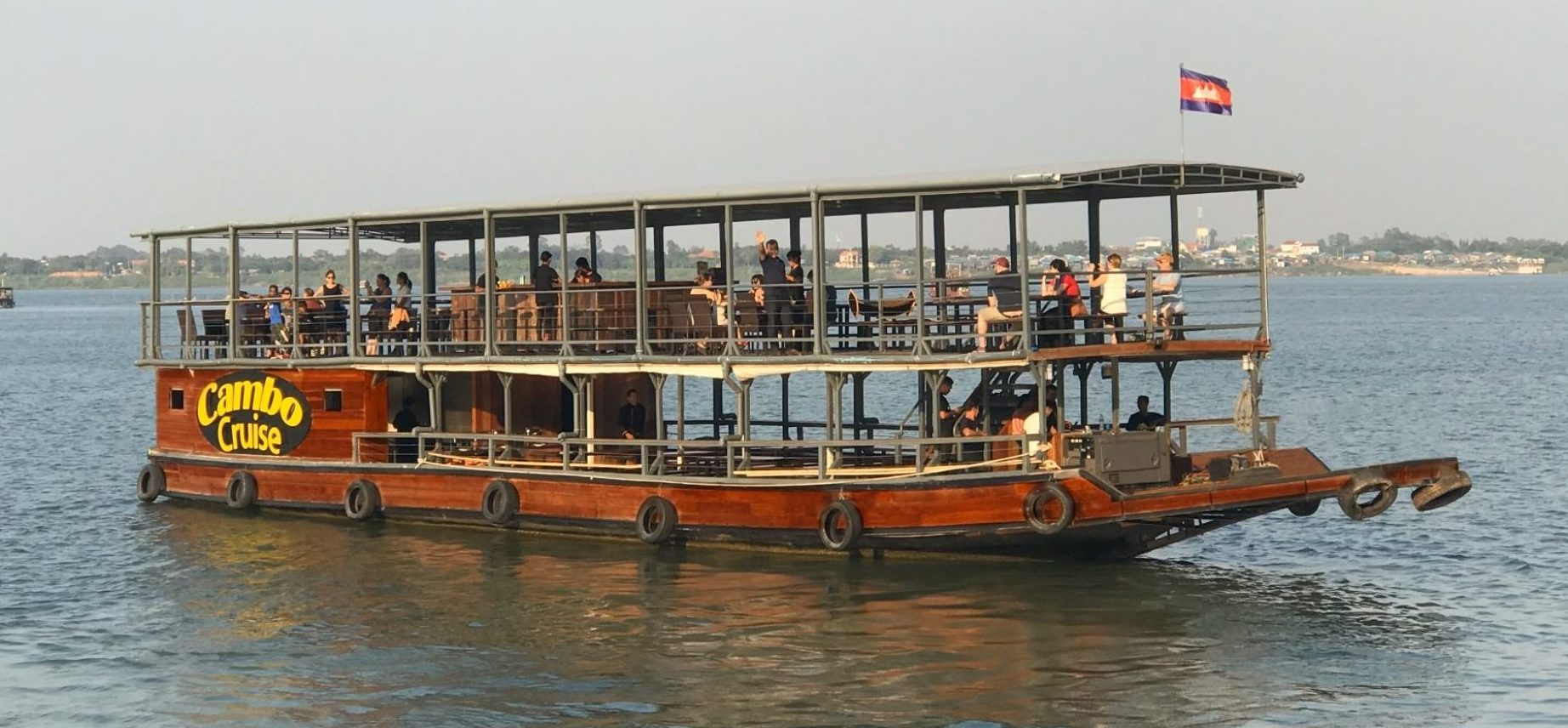 With 4000+ cruises completed, we know what it takes to make your trip memorable. Our boat is a wooden vessel with 135 seats constructed with comfortable river cruising in mind. We are fully licensed and insured, and our three licensed captains inspect our boat daily.
Western-owned and operated. We employ all Cambodian staff trained to a high standard. 
Hygiene, hospitality, and quality is our goal.
SUNSET CRUISE
5 P.M. DAILY
2-Hour Sunset Cruise with Live Traditional Khmer Music
DELUXE SUNSET CRUISE
5 P.M. DAILY
2-Hour Sunset Cruise with Live Traditional Khmer Music
EVENING CRUISE
7 P.M. DAILY
2-Hour Evening Cruise with Live Traditional Khmer Music
DELUXE EVENING CRUISE
7 P.M. DAILY
2-Hour Evening Cruise with Live Traditional Khmer Music
CRUISE WITH PEACE OF MIND
SAFETY COMES FIRST
Our licensed and fully insured boat has 12+ crew members onboard every cruise, trained in first-aid and safety procedures. 
RELIABLE & QUALITY SERVICE
Cambo Cruise staff are trained with high-quality service standards. Providing great hospitality is essential.
VALUE FOR MONEY
Our daily cruises include FREE hotel pick-up and a welcome cocktail for every passenger. We are the only cruise provider offering this service.
HIGH QUALITY FOOD SAFETY STANDARDS
Freshly prepared daily in our stainless steel kitchen with rubber floors, our food has the highest quality ingredients. Hygiene and cleanliness are a priority.
ENJOYABLE ATMOSPHERE
Cruising along the Phnom Penh riverfront, enjoy the subtle sounds of live traditional Khmer music.
PASSENGER COMFORT
Our boat has two spacious decks and lots of comfortable seating; 360-degree views on the top deck are the best way to see the river. Both men's and women's, clean, western-style bathroom facilities onboard.
THE BAR
Fully stocked bar onboard offering wine, beer, spirits, cocktails, juices, and coffee at land prices.
THE FOOD
Enjoy a FREE-FLOW BBQ Menu or choose something light, our menu is a fusion of Asian and Western favorites.
HOSPITALITY IS OUR SPECIALTY
Perfect way to spend a couple of hours in the evening. Cannot rate the staff highly enough, they were all amazing. Food was good and the views from the river were very interesting. The boat and facilities were very clean and well kept and the music entertainment was perfect.
Beautiful wooden boat filled with happy customers and super helpful staff. The food was just fantastic, freshly made minutes just minutes before it was served. Great value at $28, I suggest all give it a try
Another great trip with Cambo Cruise. Friendly and courteous staff. Great food. Safe boat. I have been on many of the river boats in Phnom Penh and Cambo Cruise IMO is the best.
The views were amazing and so were the food and drinks. We were extremely lucky we booked a cruise and ended up having the boat to ourselves. The staff were absolutely incredible and made us feel very special and lucky! The whole process is so easy from booking, to the hotel pickup and arrival at the boat. The cocktails were too good. I would definitely recommend this dinner cruise down the mekong, you'll have a great time and with the friendliest staff.
it was the best experience in cambodia for me!!! nice food and nice staffs. and beautiful music instruments (and traditional) so beautiful.
Simply a great experience...from start to finish. I've been aboard two times, and will be again before too long. The trip was punctual; departure & return. The vessel was first rate: sturdy, quiet, wide open for viewing 360 degrees, functional handrails for setting your drink, clean, well appointed. The food was delicious and there was a good variety/selection. The crew were top-notch; happy, attentive, and welcoming throughout. In short, the trip was exactly as advertised...the best. Give it a try!
Stunning, great hospitality, food was amazing, and the staff so friendly and welcoming. Not only that safety wise, the boat is 5 star. If you are going to take a cruise, take this one. Phnom Penh at sunset to be seen from aboat is one of the best things we have done here. Thank you.
The best boat trip I had in Cambodia! The boat is quiet and clean. Super value for USD 20 including food and a welcome drink!
Clean well maintained boat. There were locals, business people, as well as tourists on board. Free welcome drink, and excellent!! buffet dinner, well worth the small extra charge. Fun 2 hour tour of the riverside, and the peninsula on far side of the river.
We had an outstanding cruise with a group of friends. The food was very tasty with a variety of local Khmer and Western foods. The bar offers many cocktails which were also exceptionally good. The boat is very clean and spacious with first class friendly staff that looked after us very well.
Brian and the team were excellent and provided value and comfort to our 50 rugby playing girls and 50 parents. Even when they ran low on tonic, they went to shore to make sure our G&Ts never ran dry. Our fourth year running with them and we'll be back. Kids ate the food happily so they must have liked.
Fantastic evening sunset cruise. Being on the water as the sun set, having an adult beverage to wash down delicious shrimp salad- fresh spring rolls and a hamburger, talking with good people after a long busy day was exactly what was needed. Good service from the staff with traditional Khmer background music on a good setting, comfortable and safe boat for a very reasonable price. The riverside is picture postcard setting as the sun sets. I will do this again soon and will certainly use Cambo Cruise next time.
Have some new friends in towns so we took a small group out last night. Thank you to the crew. Boat was right on time. Food and drinks were good. They had Khmer music which was perfect. Other boats were blaring karaoke, etc. We could easily talk over the background music We went out for two hours and everyone had a good time. Happy to see CamboCruise back in business.
Great ambience. bbq meal very, very good value and good drinks menu. Best bits were very good service and friendly staff and the meal of homemade peanut sauce with spring rolls, fresh salad with homemade dressing and large portion of three perfectly bbq meats with veggies. Would recommend.